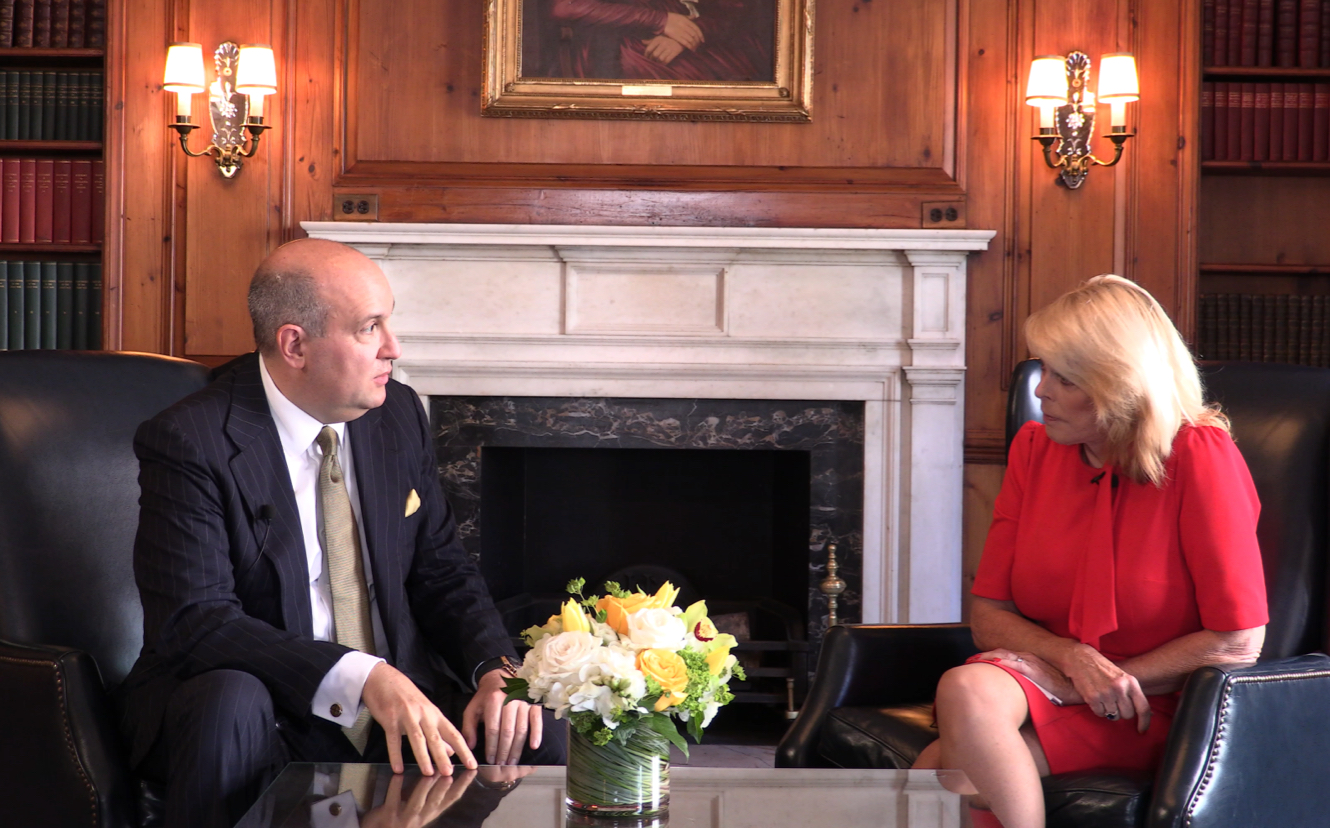 Full Interview
Today, we will journey outside of our usual topics – healthcare, politics and lifestyles – and move up to a sphere where vision and passion have come together to create a groundbreaking approach to human well-being…. in an age of growing intellectual rootlessness, encroaching, overwhelming technology, and the ills of pandemic, war, and displacement.
We are so delighted to have as our guest someone who is doing something serious about this situation, Mr. Steve Menzies, founder of the newly launched St. Francis Day Foundation, an institution inspired and supported directly by Pope Francis. The Foundation was set in motion during an organizational meeting held this May at the Pope's residence with Pope Francis and our guest, Steve Menzies, conferring privately to make this happen.
Who is Steve Menzies?
In a few words, he is a distinguished business leader, founder and chairman of a multi-national corporation, Applied Underwriters, and is a well-known philanthropist and friend to many in need, from Bangladesh to South America and across the US heartland. His recent work and accomplishments are many, from hostage release missions – coming personally face-to-face with foreign government leaders – to the hard work of securing vaccines for displaced peoples in dire circumstances.
Steve, congratulations on the St. Francis Day Foundation, and welcome to our show.
My pleasure, Betsy, and thank you for devoting this time to our efforts.
Steve, if you'll permit me, I'd like to get right down to the questions we have for you.
You have just announced the Foundation's formation at a UN Mission briefing here in New York, but your journey started in Rome in May and even before that. To start, how did this institution all come to be, and how did your leadership of this Foundation evolve?
Well, it was not linear, really, but a confluence of factors as the problems besetting all of us came to light through our Foundation's work and through our observation of issues and challenges in human progress – especially where governance and law have not kept up with technology and with other human activities.
Pope Francis' second Encyclical, Laudato si', in that context, proved quite moving and well directed.
And, as a business and philanthropic leader, I found that the Encyclical set forth, unapologetically, the critical dimensions in Human Ecology, fundamental ethics, and technology's place in the grand scheme of things.
These things, affect the people we serve in business and in charitable action– in fact, all of our fellow citizens are in this equation together.
Without going too deeply into the intellectual and economic history of the past 700 years from the Renaissance through the Enlightenment, modern democracy, the industrial revolution and the modern age, the human race has experienced innovation on every level, often before it had the legal and social tools to deal with it. Some areas such as finance have working international systems, but, as we have just seen, most, such as, healthcare and medicine, do not. That list is long.
What motivated you, even inspired you to engage in this vast undertaking?
It evolved naturally. As the leader for over 25 years of a vital, strong Company whose expertise lies in addressing casualty of all kinds, I realized that we had the ability to apply our skills to complex crises, using our logistical constructs to treat serious problems and find the way forward toward real solutions.
In the insurance world, we do best when ethical behavior is the rule, where civility, understanding and plain old help are available to serve others.
To what degree is there synergy between the objectives of the Foundation and the Encyclical whose tenets underpin the Foundation's goals?
To a great degree, Betsy.
Laudato si', is an essential outline of considerations that are predicated upon sound, enduring principles.
In a world troubled by moral relativism, so much "mission drift" in governmental and academic spheres, where entrenched bureaucracies harden into hidden, self-perpetuating governments where laws are just incremental – largely regulations built upon other regulations, surely not a rethinking or a look forward – – and then where commercialization is so invasive that the very ability to be content, to be satisfied without the verification of advertising and media is lost – – into that world the Encyclical has moved the agenda with its return to guiding principles.
One thinks of the ancient Greek mathematician, Archimedes, who exclaimed 2,400 years ago, "Give me a place to stand upon, and I will move the world."
"Human ecology" is the lynch pin to the initiatives you will undertake – would you describe some of the ways that this will be realized?
Beginning in 2022, we will convene a landmark convocation, right in Silicon Valley, involving top thinkers in debate on the uses and abuses of technology, its effects on human sensibilities, today and tomorrow.
From Laudato si' we have a framework for bold educational changes and advancement in the understanding of technological developments and cultural change whose flood might drown us before we learn to swim.
We will spring from there to curricular programs – destined to be part of clearing plans everywhere – to protect the balance that rests on our human essence in the face of forces that simply overwhelm children and addict them to anonymity and breakdown of basic moral values.
You have announced this major convocation in early 2022 to view the proper, relative placement of technology on the context of human experience. Please share the framework that is being set here.
Discovering that the world was, in fact, round, that the sun was at the center of our planetary orbits, that disease could be conquered, that the atom could be harnessed, and that a man could make it to the moon and walk on its surface – have all placed human beings anew, again and again, on startling coordinates in the map of our understanding of ourselves and our world.
In every generation, scientific advances have stirred wonder and inspiration, but, too often, before men and women can begin to process the significance of new invention and experience, they are taken up by it, employ it, become familiar with its workings, they buy it in its new forms and rely upon a cadre of "interpreters" of all kinds today to learn the implications of the technologies even though the interpreters are feeling their way incrementally with inferential tools that fail and need revision at every step.
Steve, the Encyclical refers to personal, spiritual compromises inherent in much of this – do you agree?
Yes, I do, Betsy. Today, our world is bathed in technological dependencies that transcend our ability as individuals to exercise discretionary control. Giant entities that are not answerable to anyone on earth, so big that they influence the direction of the next generation, alongside those paralleled governments which, while they lack the same type of power over society's thinking and personal behavior, do have the ability to have plagued the nations of the world with ugly politics, empty laws that are often the equivalent of "giving up" on the future by taking baby steps instead of bold, principled approaches, and, while I am at it, use assumed mandates of office to impose upon the voting publics everywhere agendas that are not reflective of popular will.
It is no surprise that US Courts are now hearing arguments aimed at limiting the influence and reach of Big Tech enterprises, that China has delimited the use of Computers by its young, and that AI is finding opponents. Artificial intelligence, is result of complex mathematical constructs that endeavor to replace as many human cognitive and volitional functions as possible, organizing them into formulae that reflect rather faithfully in many cases the performance of our wills, our intelligence and lately even our spiritual inclinations.
The emerging problem is the placing of relative value and relative meaning contrasting the essence of what such technological realities augur for humanity and the motus animi continuum of humanity, the forward progress of the human soul. In fact, there is much that might well be compromised in an unchecked, soulless universe of algorithmic functions and their applications, namely, a world of spiritual vacuity and ambiguity best termed anomie and anonymity.
Turning back to Rome, what was your impression of the Pontiff up close, as you worked together?
Warm, genuine, focused, earnest, optimistic, engaged – that's the word I would stay with – he was seriously engaged as one rarely finds in leaders.
On a personal note, I cannot resist asking you, as a multi-business leader and now as head of the St. Francis Day Foundation, a global effort, how do you apportion your time?
Well… I do work many hours beyond the usual each day and night, but, I am blessed with a talented, energetic staff of dedicated people enabling me to concentrate on large level problems and deliver solutions that are imaginative and sharp.
I find that the organization of communications is critical as is taking a "let's go" approach to fixing problems.
So much time is lost in C Suites by indecision and a kind of almost cowardly risk management that turns into paralysis. How often do we see the acceptance of mediocrity – even bad rules – for want of some simple courage?
Too often, Betsy.
What lies ahead for the Foundation?
Engagement. Recruitment of help at all levels, especially as we expand outward.
We need our listeners to engage, and act.
How can our viewers participate?
Explore our website.
Follow the dialogues we are opening.
Offer your thinking – and I mean this, it is not just a polite invitation.
And if you can, send us contributions. We will use 100% of monies received on programs and aid directly, as a result of the founding donors' grants covering all of our administrative costs.
We are a nonprofit, of course, and our activities will be filed as such publicly.
What a great set of principles, formation, and structuring of the Foundation with solidly meaningful programs in the offing – I will be among the first to join, Steve.
Thank you for undertaking this yeoman work.
Signing off, this is Betsy McCaughey with thanks to our guest, Steve Menzies, and best wishes for the great success of the Francis Day Foundation.
…